Pledges and Financial Status for 2020
For 2020 we have received 82 pledges for a total of $343,462. By comparison, for 2019 we received 87 pledges for a total of $350,264. We ended 2019 in a very good position with surplus fund of over $38,000, due to a combination of higher than expected donations and lower than expected expenses. Based on the encouraging data, the session is recommending funding of the proposed increases for Craig's terms of call. These increases include a cost of living adjustment (COLA) of 1.6%, an annual raise of $2500 and additional professional development to support the cost of the Doctorate of Ministry program.
Annual Giving Statements Available
Annual Giving Statements are now available in Fellowship Hall. Please help us save postage by picking up your copy up as soon as possible.
Upcoming Israel/Palestine Film Festival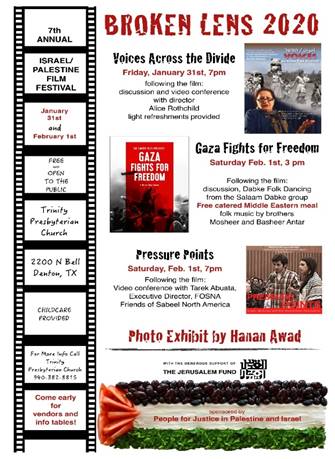 60th Anniversary: Remembering Our Stories
Trinity's stories are important to remember and need to be kept alive so that present and future congregations can see how God has worked (and is still working) in the life of our beloved church. As we hear these stories over the next few months, you may notice how much we share with the Trinity of the past. As Pastor Craig put it in the 50th anniversary book, "We are still a church with a passion for creative worship, a church that dotes on its children, a church active in the community. We are still a church that values hospitality and inclusiveness, a church that seeks to live out the gospel in our relationships with each other and in our communities. It is remarkable how much Trinity has both changed and stayed the same."
Over the next few months you will hear some of these stories during worship. I hope that these "Remembrance Moments" will motivate you to read more about our history. You will find suggested reading assignments in Trinity Greeting following each talk.
ASSIGNMENT: Read Pages 13 – 17, 53-54 from Celebrating Our Story: Trinity's Continuing Journey with God: 1960-2010, the book that was compiled for the 50th anniversary. If you do not have a copy of this book, please email and I will send you scanned documents of the assignment.
Here is a copy of the Remembrance Moment from Sunday.
The Beginning: A Community Church
Trinity Presbyterian began as a mission church of St. Andrew Presbyterian and was intended to serve the growing northeast area of Denton. Thirty-eight St. Andrew members volunteered to be part of the new church. The Rev Paul Young was called to be the organizing pastor. On April 17, 1960 the first worship service was held in the chapel of Jack Schmitz Funeral Home on North Locust. On July 31st, 1960, TPC was officially chartered with 58 members signing the charter. Trinity Presbyterian Church held its dedication service in their new building on the corner of Sherman and Bell on September 17, 1961.
Rev. Paul Young thought it was extremely important for the congregation to be active in the community, especially when it came to working for social justice. He went to City Council, School Board, and County Commissioners meetings, and brought challenges back to the congregation about issues of injustice that he learned about. He encouraged members of the church to attend these meetings and to also run for office themselves. As a result, Trinity had city council members, more than one mayor, school board members and members of city boards and commissions.
Trinity's first Session reflected Rev Young's call to get involved in the community and they were not afraid to speak faith to power when they saw injustice. When the School Board proudly announced the integration of Denton schools, but declared it could not provide bus transportation for black students because they had a school within two miles of their residence, the session confronted the School Board about the board's seriousness of intent to have an integrated system, and bus transportation became a reality.
By the way, the make-up of the first Session itself would be considered unusual or even a little radical during this time. At a time when women's roles were limited in most churches of our denomination, Trinity incorporated women into the mainstream work of the church. There were very few women nationwide ordained as ruling elders. Trinity ordained not one, not two, but three women to serve on their first Session. These women were Euline Brock, Jean Kooker, and Alois Storrie, who was also the church's first treasurer.
I will save for next week the work that Trinity is most remembered for during this decade. That is their work for racial justice in our community at a time when the segregation in schools was coming to an end and the nation was deeply divided over the Civil Rights movement. It was a whole church effort and was a model that got the attention of many. Stay tuned.
As you can imagine, Trinity began getting some attention from other churches for their very progressive stands and active involvement in the community. Paul Young said, "Trinity Church began to have a reputation in the community as a congregation which could effect change when it spoke. Our Unitarian friends began to confess their embarrassment that while they talked about issues, Trinity Church was effecting changes in justice and fairness issues. Some of our fellow Presbyterians in other Denton congregations disapproved of our social action, wishing we would "just stick to the Gospel." Our session believed the Gospel was our motivation for "meddling."
Don Smith, representing Trinity Presbyterian Church at Paul Young's memorial service, shared these words. "Every one of us, as we go through this life, leaves tracks. Sometimes the tracks are deep and clearly defined, sometimes they are shallow and wandering and hard to follow, or maybe not worth following.
Clearly, Paul Young was one of the former. His tracks were straight, easy to read, and clear. They were not always easy to follow, for they led us into areas that demanded a moral stance and the courage of our convictions. Sometimes they deviated from conventional wisdom or at least departed from the easy path of conformity. A pastor's leadership is measured not so much by what he or she accomplishes. Rather, it is measured by what they can cause the congregation to accomplish."
Trinity was intended to be a church for people who lived in the growing northeast part of Denton. Instead, God seemed to be calling it to something bigger. Trinity became a church for the whole community. The congregation was willing to get out of their comfort zone and to do what is right to fight injustice in their community. We know that God is still working through our congregation as we continue the legacy of those who came before us.
Christian Education
Sunday School for Adults January 5—February 23
Trinity folks have a different kind of Sunday School opportunity being provided in January and February. The Christian Education Committee is offering one Sunday School class for all adults because of the importance of the topic. The class will introduce six skills or strategies that will enable learners to explore the historical setting, discover the literary context and audience, identify oral and literary forms, analyze the structure, investigate words and phrases, finally putting all these skills together in the final classes. Essentially, we will be utilizing literary analysis techniques to deepen our relationship with the Bible. Carolyn Harrod will teach this class. She loves teaching literature and is an expert in helping others see its beauty and complexities through literary analysis. It will be held in the Fellowship Hall. The class will be led by Carolyn Harrod.
Free Computer Class
I am offering a computer class open to church members on the first and second Tuesday each month, at 10 am, for 1 to 1.5 hours each. It will be an open forum so that you can ask questions. I will also give general information and tips and shortcuts on using the computer and the internet. You are welcome to bring your own laptops with chargers. Please try to email, call, or text me if you plan to attend. (Just so that I might have an idea of how many will show up.) :) (cell 940-208-8577) Terry Collins
Trinity Moves
...is a free yoga class that takes place on Thursdays from 6:00 p.m. in Fellowship Hall. Yoga mats are provided.
Coffee Fellowship
Thanks to Winn Skinner for providing beverages Sunday, January 26th.
Coming Events
| | | | |
| --- | --- | --- | --- |
| January 26 | | Congregational Meeting | Sanctuary |
| | | Entryway Task force | Library |
| January 27 | | Presbyterian Women's Book Club | Fellowship Hall |
| | | Trinity Stitchers | Fellowship Hall |
| January 28 | 6:00 p.m. | Session Sack Supper | Fellowship Hall |
| | 6:30 p.m. | Session Meeting | Fellowship Hall |
| January 31 | 7:00 p.m. | Broken Lens 2020—Israel/Palestine Film Festival | Fellowship Hall |
| February 1 | 3:00 p.m. and 7:00 p.m. | Broken Lens 2020—Israel/Palestine Film Festival | Fellowship Hall |
Church Information
Church office hours are 1-5 p.m., Monday-Friday.
Trinity Greetings deadline is 1 p.m. on Tuesday and bulletin deadline is 1 p.m. Thursday. Articles received after the deadline will appear the following week. Send email articles for the Greeting or the Sunday bulletin to trinity@tpcdenton.org