Church Information
Church office hours are 1-5 p.m., Monday-Friday.
Trinity Greetings deadline is 1 p.m. on Tuesday and bulletin deadline is 1 p.m. Thursday. Articles received after the deadline will appear the following week. Send email articles for the Greeting or the Sunday bulletin to trinity@tpcdenton.org
Games Night
We are having another Games Night on the evening of November 15th, from 6:30 to 9 p.m. Ice cream will also be available – although autumn temperatures have already arrived, it is never too cold for ice cream! Come as go as you are able, bring a game if you want, and bring your appetite for fun, fellowship, and ice cream.
Taizé Service
Mark your calendars for Sunday evening, December 8th, for our quarterly ecumenical Taizé service, which will be at Trinity at 7:00 p.m. Join us for a refreshing, contemplative gathering in the spirit of the Taizé community. It is an intentional time devoted to meditative songs, silence, and centering prayer. There will be an optional labyrinth walk in the fellowship hall afterwards.
Office of Public Witness
Last Sunday, the word of God in action described an office within the PC USA called the Office of Public Witness. The OPC has been in existence since 1936; its task is to advocate and help the church to advocate for the social witness perspectives and policies of the Presbyterian General Assembly. By lobbying, by writing letters and making phone calls, and by testifying before agencies, the staff members help clarify the moral and ethical issues at stake in public policy. The goal is to make clear to people in government what the General Assembly is concerned about, why and what can be done to respond to these concerns.
A list of domestic and international priorities for the General Assembly for 2019 can be found at the Presbyterian Mission Agency Office of Public Witness/Compassion, Peace, and Justice. Among these priorities are concern for climate change, systematic racism, health care, immigration reform, anti-Muslim bigotry and human rights across the globe.
It is good to know that we are part of a church bigger than the building on North Bell that shares and advocates for our values at the national and international level.
Racism Reading Group
A small group has now met a few times to discuss the book Waking Up White, by Debby Irving. The date for the next meeting was set at 4 p.m. on November 17th. The book we will be discussing then is So You Want to Talk About Race, by Ijeoma Oluo. Please read the book and make plans to attend. If you can't attend the next meeting, stay tuned for information about future meetings.
Stewardship Commitment Sunday
Remember to bring in your pledge card on Stewardship Commitment Sunday, November 17th. Thank you for your past financial support for Trinity and for your prayerful consideration of continued support in 2020.
60th Anniversary Arts and Crafts Fair
As part of Trinity's 60th Anniversary Celebration, an Arts and Crafts Fair is being planned. Artists and Crafts People in the congregation are asked to create items for the Fair. These could include paintings, jewelry, woodworking projects, knitted, crocheted, or sewn items, banners, wall hangings, pottery, or other arts and crafts. These items will be sold at the Fair or used as door prizes. Because the committee is planning an emphasis on our children and youth, the proceeds of the Fair will be used primarily for a project which will benefit them. So, you artistic ones in our midst, and there are lots of you, put on your creative hats and use them to help us celebrate our anniversary! If you have any questions, please contact Diane Winchester or Jim Johnson or any other member of the anniversary committee.
REQUEST FOR SPECIAL MUSIC FOR CHURCH ANNIVERSARY
May 30-31, 2020
Trinity Presbyterian will be celebrating its 60th anniversary during 2020 culminating on the weekend of May 30 and 31. Throughout these six decades, music has been an integral part of our worship and we have been blessed with an abundance of musical talent. The 60th anniversary planning committee invites submission of original musical compositions to be performed as part of the celebration. Any kind of musical genre will be considered. It could be a hymn, a folk song, an instrumental piece, a choral anthem, or opera, etc. The music may be either a solo or for a group. If your composition is among those chosen, you could perform it yourself or you would be consulted as to who would perform it and when it would be performed as the committee fits it into the design of the whole celebration.
The deadline for submission is March 15. If you are interested in taking this creative challenge or have questions, please contact one of the members of the anniversary committee. They are Ann Barnett, Shari Brand, Francisco Guzman, Sara Hagan, Cindy Harris, Jim Johnson, Jean Tunnell, and Diane Winchester.
Lovepacs for Students
Many children rely on school meals daily, and when there is an extended weekend or holiday break, these students can be left wondering where their next meal comes from. LovePacs serves the food insecure students at Denton ISD schools (we're up to 325 children now) by providing a box of food for them on extended weekends or breaks from school. Since Thanksgiving is a full week off of school, the box of food they get is substantial - so we are in need of some items.
We will be accepting donations for Lovepacs for the Thanksgiving boxes that will be packed soon. The biggest needs are 15 oz cans of canned pasta (ravioli, etc.), fruit, vegetables; 5oz cans of tuna or chicken; single servings of Easy Mac; 6oz bags of goldfish; instant oatmeal packets; and granola bars of any type. We would love for this to be a stewardship opportunity for our children by encouraging them to select an item to donate while at the grocery store and allowing them to place it in the donation bin we'll have in the Narthex.
We will also be having a Snack Pack soon (details forthcoming) where the children of our church are encouraged to help fill Ziplock bags with snacks. Donations of individually packaged snack items (fruit snacks, peanut butter crackers, etc.) would be appreciated as well!
Save the Date!
Traditional Congregational Christmas Caroling, Sunday, Dec. 22. 4:00 p.m. We meet at the church, divide into groups and go to our folks who can't get to church easily, live in assisted living or at home. We sing carols with them and have a prayer. We come back to the church about 6 for a potluck soup supper.
CHILDREN NEEDED!
Poinsettia Sale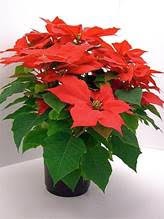 Denton Christian Preschool's Poinsettia Sale is back! From now until Friday, November 22nd you can purchase your beautiful 10" poinsettias in white, pink, or red for $25 each.
You can order online, by phone, or order forms (available Sunday at Trinity that you can take to Denton Christian Preschool)
Online: https://dentoncps.networkforgood.com/events/15372-poinsettia-order-ticket-form
Phone: 940-383-3332
Poinsettias will be ready for pick-up at the First Presbyterian Church Erwin Gym the week of December 3 - 6 from 9 a.m. - 3:30 p.m. You will receive an email reminder to notify pick up. More information available:
https://www.dentoncps.org/winter-fundraisers
Christian Education
Sunday School for Adults
As part of Advent, the children's classes are going to be making ornaments for a Jesse Tree. The Jesse Tree is from the Isaiah passage "A shoot shall come out of the root of Jesse." The tree will show God's faithfulness to the people from creation. We will follow stories throughout the Bible to the birth of Jesus. We will end with the children making ornaments to represent themselves to show that they are part of this story.
November 17th – December 1st – Adults will review the stories that will be used in the children's classes. The adults will study the stories in more detail and discuss the thread of God's faithfulness to the people.
December 8th – 22nd – Alan Guard will facilitate a class on Legacy Giving.
Planned Giving at Trinity Presbyterian Church
What will your legacy be at TPC? Many members do not realize that they can continue to make a difference in the life of TPC even after they pass away through planned giving, or legacy giving. This three-part Sunday school class will help you plan for that time.
On December 8, Sherry Hester Kenney from the Presbyterian Foundation will speak about the work of the Foundation. Dating back to 1799, the Foundation works with congregations to build communities of generosity among their members and constituents and they provide all Presbyterians an avenue to realize their philanthropic goals through a variety of giving and investment options.
This session of the class will look at the American way of death, including changes in funeral and memorial practices, and invite discussion as to what that might mean for us as Christians. How might we be more faithful in our grieving, in our living, and in our dying? This session will be led by Craig Hunter
The final class of the series includes a presentation on preparing your will and identifying the myriad ways you can leave a legacy to the church. Did you know that nearly 60% of Americans do not have a will? Not only does this leave the church out of your plans, but it also causes all other sorts of problems for your loved ones. Come hear Paula Flowerday explain the ins and outs of preparing a will and the various options for making plans to creating your legacy at Trinity.
Trinity Moves
...is a free yoga class that takes place on Thursdays from 6:00 p.m. in Fellowship Hall. Yoga mats are provided.
Coffee Fellowship
Thanks to Rick Rahn for providing beverages and to Joann Hanson for providing snacks.
Coming Events
| | | |
| --- | --- | --- |
| November 15 | 6:30 p.m. | Games Night |
| November 16 | 6:00 p.m. | Choir Party |
| November 17 | 2:00 p.m. | Contemplative Prayer Group |
| | 4:00 p.m. | Racism Reading Group—Library |
| November 19 | 2:00 p.m. | Lay Ministry meeting |
| | 6:30 p.m. | Anniversary Committee—Library |
| | 6:00-9:00 p.m. | St. James AME at Trinity |
-->